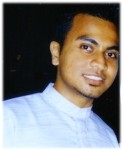 The name's Md Shaifudin. East side, SG. Used to stay in the east side but now, shifted to North-East since 2018.
Married for 13 years to a wonderful, beautiful and uniquely enchanting aka hot lass. All praise to God who gifted us with a child, 2 kids.
I am an educator but am very passionate with IT. Or ICT, as the education fraternity here prefers to call it.
Started writing an online journal beginning with Scribble.nu back in 1999 then to Diaryland.com before deciding to buy my own domain as a source to write out my online thoughts and ramblings.
DISCLAIMER: I reserve the right not to be responsible for the topicality, correctness, completeness or quality of the information provided. Liability claims regarding damage caused by the use of any information provided, including any kind of information which is incomplete or incorrect,will therefore be rejected.
The author(s) is/are not responsible for any contents linked or referred to from my pages including sub-domains – unless he has full knowledge of illegal contents and would be able to prevent the visitors of my site from viewing those pages. Furthermore the author is not liable for any postings or messages published by users of discussion boards, guestbooks or mailing lists provided on these pages.
My email address: din [at] kapoosh [dot] net
Revised in November, 2019.